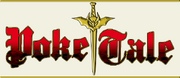 Welcome to the PokeTale Wiki
Edit
PokeTale is a fantasy roleplaying game based on Pokemon series and the Dungeons & Dragons roleplaying game. It is set in Illith, a huge continent that houses six races and countless Pokémon where players get to be heroes that roam the world and battle with dark forces. Players can add their characters into the wiki and help expand it as the game progresses.
When making your character please make sure you read the rules, how to join and the F.A.Q. as these are the three things that will help you with the technical side of joining. If you want your character to fit snuggly into the world of Illith then read the Lore to get a taste of the world around you. You do not need to read everything at once.  This group is not a test on your reading skills but everything that has been written is purely to make the world more fleshed out and fun to be in. If there is anything that doesn't make sense, contact the group on deviantART via note or Pseudo-Strawberry directly.
Read first
Edit
Character creation
Edit
Ad blocker interference detected!
Wikia is a free-to-use site that makes money from advertising. We have a modified experience for viewers using ad blockers

Wikia is not accessible if you've made further modifications. Remove the custom ad blocker rule(s) and the page will load as expected.